Where does my membership fee go?
Polish Business Link is self-financing. Membership fees are re-invested back into the organisation to help our member businesses to grow. Fees pay venue space for our full calendar of open and members-only events; for technology, to maintain our communications such as emailing distributions and our website that promotes members' businesses, etc.
In all these ways and more, we generate quality leads for your business.
PBLINK Membership cost
Our Annual Membership fee is £350 + VAT with no joining fee. Your membership brings a wide range of benefits. It does not matter whether you want to join as a business owner or individual – YOU decide how are we going to promote you and your business. If you own 2 businesses we can promote both in our business directory, social media, etc. If you are a serial entrepreneur owning more than 2 businesses you can promote all of your businesses by Becoming a Polish Business Link Partner.
Can I pay PBLINK Membership by instalments?
Our preferred option is to pay membership fees in full via payment card, PayPal or invoice. However, we offer quarterly and monthly plans to help you spread the cost of your membership. The Quarterly plan costs £95 + VAT and monthly plan £35 + VAT. All payment plans are subject to annual agreement and are available using automated payment method via credit card or PayPal.
If you pay in a currency other than GBP, your rate will be calculated automatically via the bank exchange rate. Please note that we are a VAT-registered business in the UK and if your business is registered outside of the UK you might not need to pay UK Standard VAT Rate.
We offer a cooling-off period of 30 days. Please note that if you pay the annual fee you will save up to 20%.
Early year startup & self-employed
Startups and self-employed individuals in the first 2 years of their business existence can apply for the first-year membership discount of £100 + VAT. Assuming new members will engage with most of our events we believe that our network and contacts will help you to develop your business and you will be able to become a full member after 1 year with us. Please contact us if you think you are eligible for 1st-yr discount.
What information is required when I sign up online?
We use third-party checkout Thrivecart that offers secure encrypted payment. On our signup page, you will need your business details including name, address, email. You will also need to agree to our Terms and Conditions.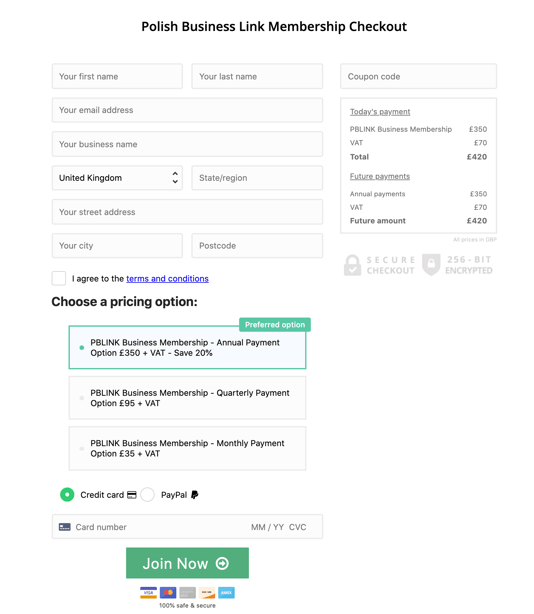 On the second page, you have 2 payment options: PayPal or credit/debit card using Stripe. Once you make your payment you will receive a VAT invoice for your sale and access to your Thrivecart dashboard, so you can manage your subscription, change card and invoice details. Your payment will be automatically deducted based on your payment plan. All members will receive an annual summary one month before their renewal and you will be notified before your card is charged. Please make sure that your card details are up to date in order to continue membership with PBLINK.
Should you have any questions about membership, please arrange an introduction call now.