Polish Construction Forum Webinar Workshop attended by 100+ Polish Builders in London and the UK.
About workshop
Approach to selling has dramatically changed because the buyer is now in control. They are extensively researching a purchase before first sales call. They know about you more than you think. What you need to do is to win buyer's confidence. At the 30 min workshop, Bart is talking through some ideas on how to improve your workflows in your construction business using HubSpot CRM so you can sell better.
HubSpot Consultant for Construction Business in the UK
HubSpot helped me to understand what Customer Relationship Management is: interpreting databases, customer behaviour, creating sales funnels, profiling your database, collecting and storing feedback. I use the paid version but HubSpot Free will give you a great start and when you grow you can update.
I made lots of mistakes and spent hours setting up my system. I learned that everyone's business is different, so approaches to CRM should vary.
I work with SMEs in Construction, Property, Ecommerce and Professional Sectors helping to empower technology into their businesses so they can sell better. Get in touch.
About Polish Construction Forum
The Polish Construction Forum in the UK was organised by PBLINK. Discussion Panel was part of the 4-hour Zoom webinar. It was the perfect opportunity to network and discuss the current situation and the future with fellow polish construction industry professionals as well as to hear from experts in fields such as: Major Construction Projects; Construction Law; Procurement; Bidding; and Project
Management.
This webinar is useful for anyone who wants to work with Polish Builders in the UK: Polish architects, Polish subcontractors, polish developers and other professionals from UK's construction industry.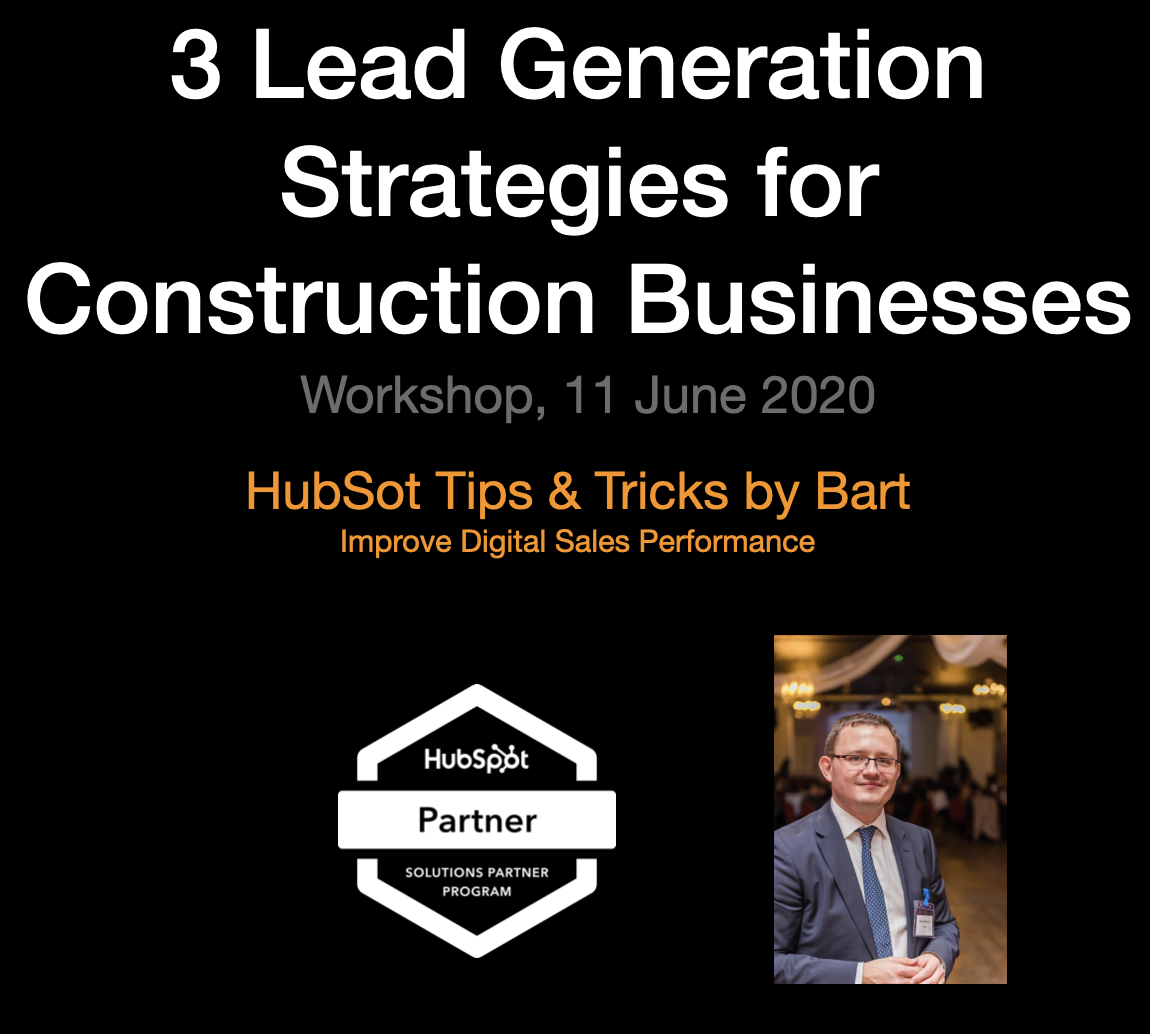 Type of content: Webinar Recording
Date: 11 June 2020
Duration: 30 min
Language: English
Expert featured in the Webinar:
Bart Kowalczyk, AutomateNow!, HubSpot Consultant
Get Access to this content
[Get access to our Resources section: webinar video recordings, templates and presentations of experts involved in the events organised by Polish Business Link. Provide details below to have immediate access to this content.