Peter Kuncewicz, CA is Associate Finance Director with EFM, Finance Directors and Business Advisors with a difference. He has a long career in senior FD (Finance Director) and CFO (Chief Financial Officer) posts in countries across the world, but he calls England home.
He spoke to Bill Mair of PrecisionPresentation.com for PBLINK Stories.
What's the Difference?
EFM fields a team of over 70 Chartered Accountants UK-wide to act as business advisers or accountants to SMEs who may not yet have grown to the stage where they can hire or contract someone full time. EFM will come in and work as little as one day a month to accelerate the growth of the business, making them both flexible and affordable.
In fact, EFM even offer the option to sign up for Finance Director or Business Adviser services on demand! EFM advisors often grow with their client businesses, contributing more time as the business expands, accompanying the company on its journey.
EFM advisors are not only all Chartered Accountants but also they have each weathered the storms of running businesses and demonstrate real leadership and practical management advice.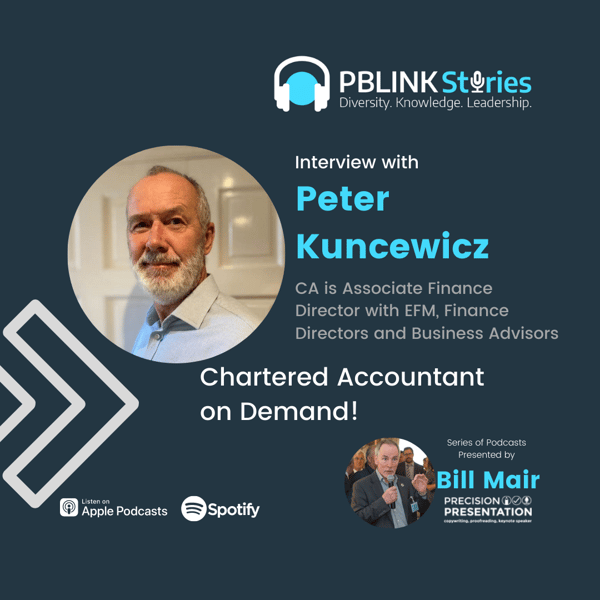 England, oh England!
Peter has worked in some pretty glamorous locations all over the world, including Dubai, Singapore and Qatar and he loved travelling: the experience of discovering new countries and cultures. However, he is proud to call England his home now. Not only that, but he is at pains to point out to critics of the UK the many benefits of living here.
As a family man, of course schooling is an issue. Peter was keen that his children got into a school in Hertfordshire, where he lives, once they approached their teenage years. But there was more that pulled him out of his globe-trotting. He is unequivocal in his support of living in the UK, telling our interviewer that it "is actually a very, very good place to live."
He talks about the 'fabulous advantages' of the UK that many of us living here perhaps don't appreciate, including:
It's a good place to do business – entrepreneurship is encouraged
An extremely supportive social structure
A safe country to live in
What is Safety?
Peter expands on the aspect of safety, by comparing the UK to some countries he has lived in, which offer nothing like the security we enjoy here. This encompasses not just physical safety but also fundamental rights than we take for granted, such as freedom of speech, the right to vote and the right to determine your own destiny.
These are issues that people who have not lived abroad might not take into account. Certainly, with those bases covered, it frees up attention and resources to devote to building your business or your career.
Brexit is a Bump on the Road
Asked whether he advises any of his clients to consider relocating to an EU country to avoid the consequences of Brexit, he is emphatically against the idea. Peter himself has dual nationality and two passports: British and Polish. He is also bilingual, so he could easily establish himself and his family in Poland. And he talks enthusiastically about the rapidly improving environment for business is Poland, its resilient, booming economy.
Nevertheless, he views Brexit as "a bump in the road" and recommends getting the "right advice from the right people" to weather the storm until it all blows over. The short-term inconveniences of Brexit are outweighed by the multiple advantages of living and doing business in the UK.
The Biggest Challenge a an entrepreneur
So, from all the businesses that Peter and his associates at EFM are working with at the moment, what would he say is the biggest challenge facing British businesses today?
In general terms, Peter proposes, the biggest challenge is uncertainty.
Specifically, without a doubt, Brexit and Covid are the two best examples. Many people did not believe that Brexit would ever actually happen and were taken by surprise first when it did and then again by the consequences and effects. Nobody saw a global pandemic coming and nearly everyone in business has had to adopt emergency protocols in immediate response and find the best way adapt in the long term.
Secret of Business – It's the People, People.
Whether you measure success by making lots of money, providing for your family or you are just running a lifestyle business where making a profit is not important, good management is crucial. Perhaps the most important aspect is good recruitment, making sure that you have the right people around you.
If everyone is working in harmony as a team, together with the same passion towards the same goals, rather than criticizing, competing or even sabotaging each other's work, it sets the scene for the business to flourish.
It's all about the people, people.
Peter Kuncewicz was interviewed by Bill Mair, of PrecisionPresentation.com