What's behind the success of Amberth, the high-end kitchens and bathrooms design studio in London, which enjoys a great reputation for quality and reliability as well as style?
Leadership
It's led by a woman, MD Inga Kopała, and around half the workforce directly employed are women, too. Is that the key, or is that just part of it? Amberth deals mainly with residential clients and frequently it is the woman in the household who takes most interest in the detail of the kitchen or bathroom design. Certainly, women feel less likely to be talked down to or patronized when discussing construction or design with a female designer.
Amberth is a family firm, run by Inga, with her husband as Project Director, and his brother in Poland manufacturing the furniture.
Inga is committed to the value of people and the role they play. Of course, Amberth uses only the best materials and appliances, but if the communication and trust is not there between clients and design/installation ream, the client will not appreciate the end result and it will all be for nothing.
Leadership showed during lockdown, too. When they had no choice but to close the showroom for a while, the company discovered that it was actually an opportunity. Inga led her team to brainstorm ideas to respond to lockdown restrictions which led to innovative solutions, better in the long run for their clients. Now, Amberth has honed their remote consultation process to a fine art.
Lockdown also gave Inga the time to bring in an outside perspective in the form of a business Action Coach. Effective leadership means admitting when you don't have all the answers.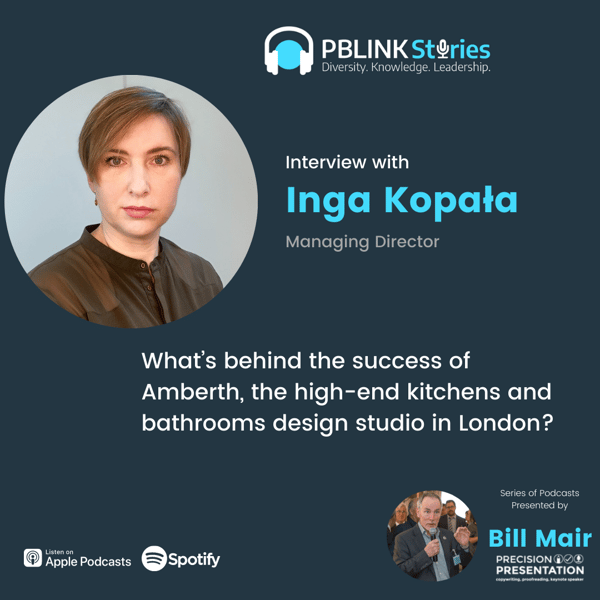 Knowledge
But the business is based on a solid foundation of knowledge. For Inga, carpentry and craftmanship are in the blood. As a child, she worked in her father's joinery workshop for pocket money. Later, she chose to study Marketing and Management at university and was awarded a BA degree in the subject, followed by an MA in Employment Studies and HRM at London Metropolitan University in 2002.
She entered the construction industry in 2006, consolidating knowledge and experience, year on year.
Diversity
Another strength of the business is its diversity. The workforce is split 50/50 for gender, with the design team female and the fitting team men. The company employs a number of different nationalities, too, including: Polish, English, Russian, and Pakistani, which is very helpful for communication and appreciation of the cultures of the company's wide client base.
Best of both worlds
Although it is a small, family-owned business, and therefore flexible and responsive to changes in circumstances, it is completely in control of its supply chain, as it has its own manufacturing facility in Poland.
Small is beautiful in their transport policy, too. Rather than sending over bulk shipments of furniture from Poland, Inga insists that each kitchen is sent on a separate delivery. This speeds up transit through customs and border points, as each consignment fits in a van. Lorries are subject to hold ups when entering and leaving the EU, for extensive paperwork checks. Smaller vans can show the necessary documentation for their load and speed through EU/GB checkpoints more quickly and efficiently. If a physical inspection is necessary, again that means a relatively brief delay.
This policy is perfect for these post-Brexit times, but was in place long before. Inga explains that it is actually a quality control issue.
"Transport is the biggest risk to furniture. Therefore, we always wanted to make sure that it is not exposed to any risk, because then, it's expensive as well as not very environmentally friendly and an extreme cost to the client in terms of delays and time."
Dealing with changes by the customer
Amberth's flexibility works once more to the customer's benefit. When the client requests a delay to the designer's agreed schedule, Inga is often in a position to accommodate their new requirements. By delaying manufacture or transport of the furniture from Poland, she can avoid costs incurred to the client in storage until the client is ready to resume. This is rarely possible when dealing with bigger or national chains of kitchen and bathroom suppliers, where the client would be obliged to take delivery of the units ahead of installation, or pay for storage off-site. Apart from the inconvenience and costs involved, this also incurs extra risk, as the furniture should be stored in certain conditions.
People
But for Inga Kopała, while all the above is important, the secret of business, the key to their success, is people.
"For me, the secret of business is people. And it's not only people within the business, it's people around the business, your network, people who you know, but also your clients. Without the clients there is no business, without the workmen and employees, there is no business, without the managers and owners there is no business.
"So, it is all around people."
Inga Kopała was interviewed by Bill Mair of PrecisionPresentation.com for PBLINK Stories.