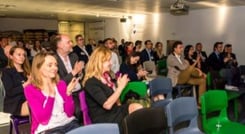 More than 40 business owners and entrepreneurs arrived at Rainmaking Loft this week, home for over 200 start ups from Central London.
Bartlomiej Kowalczyk from the PBLINK welcomed delegates and gave a brief update on the newest developments of the organisation including the calendar of events planned for the next few months.
Tim Hillier, representing SBR Consulting Ltd delivered presentation about improving your sales performance. He said that '81% of people want to talk to sales people in order to get better insights about product or service'. Tim also mentioned about Buying cycle and SBR Habit Triangle: Skills, Sales Motivation, Systems and Habits.
Katarzyna (Kate) Boguslawska, Partner at Carter Lemon Camerons LLP provided practical guide about law governing electronic direct marketing. Kate mentioned about ICO (eng. Information Commissioner's Office), the UK's independent authority. The role of ICO is to uphold information rights in the public interest, promoting openness by public bodies and data privacy for individuals. Kate also mentioned about types of personal data, explained what is direct marketing and shared general rules and good practice about marketing communications to individuals and partnerships.
Second part of the event was 2 presentations of Loftmaking based start-ups: Latest Free Deals and Innovity. Both Maulik Sailor and Deepak Tailor shared own journey of being entrepreneurs.
Then there was a chance for some speed networking during which everyone had the opportunity to introduce themselves and their business in 30 seconds. Although the event officially closed at 20.00, we continued conversations at the nearby pub.
We would like to thank our partners Carter Lemon Camerons LLP and Sami Swoi for supporting this event.