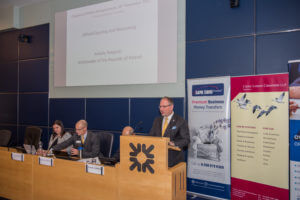 Although there were fewer participants than in the previous congress, the consensus was that the quality of presentations – and indeed of the participants – was higher than ever. "Our businesses are four years older, we've grown in size, turnover and most importantly – experience," said one participant.
PBlink.co.uk, established in early 2012, has been successfully bringing together Polish entrepreneurs from across the UK, organising seminars, workshops and forums from Aberdeen to Southampton. In five years, the organisation has built up a formidable reputation and a strong network of institutional support. For the fourth time, Pblink.co.uk has held its annual congress in London, attracting top inspirational speakers, showcasing highly successful Polish entrepreneurs, and creating a high-value business networking opportunity.
The theme of this year's congress was futureproofing your business. In an age of digital – and political – disruption, business owners should have organisational resilience at the forefront of their mind as they chart a future course from their firms.
The forum was opened by Polish Ambassador to Britain, Arkady Rzegocki, who paid tribute to the Polish entrepreneurs' contribution to the UK economy. Nick Howe, from NatWest Business Banking, whose Bishopsgate conference centre was again the venue for the event, welcomed participants. His key takeaway to them: "Fall in love not with your solution, but with your customers' problems."
Bart Kowalczyk, founder of PBlink.co.uk, spoke about the importance of networking and collaboration in growing your business.
Stuart Lotherington, senior partner of SBR Consulting, focused on sales management, presenting the 'skill-will' matrix; determined salespeople with low skills need training, while skilled staff whose determination is flagging need motivation. Those in the low-skill, low-will quadrant should be replaced. Overall, the role of the leader is to build a future-proof sales force in which the will to win is key. It is easier to up-skill determined people than to motivate those skilled individuals who are getting lazy, he suggested.
No one likes paying taxes, but at least in the UK the process is easier and more predictable than in Poland. Clare Sheehan from HM Revenue & Customs, explained to participants the changes that the government is planning to make it even easier to pay tax. The Making Tax Digital initiative goes live for firms above the VAT threshold from April 2019, and will depend on integrated digital record keeping, whereby information from companies' spreadsheets can synchronise with HMRC via bridging software.
Amb. @ArkadyRzegocki at #BizCongressPL: "I take pleasure in seeing the entrepreneurial spirit of Polish citizens in Poland and #PolesinUK." pic.twitter.com/7SbXd8kpzm

— Polish Embassy UK (@PolishEmbassyUK) 10 November 2017
Polish Business in the UK Case Studies
Case studies of successful businesses are always inspiring, and Dagmara Lacka's story of how her company's product Flow.City was created and how she financed its growth was quite remarkable. The outdoor digital advertising platform allows the LCD screens on taxis to show a particular ad as they drive along particular streets in particular circumstances (rainy rush-hour evenings, for example). It gives advertisers provable returns on their ad spend in terms of foot-fall. Flow.City also distributes digital advertising on screens in shopping malls, airports and offices, using algorithms to deliver the right message at the right time. Ms Lacka explained the various rounds of funding, making the distinction between business angels, venture capitalists and private-equity funds.
The General Directive on Data Protection comes into force in May 2018, and just as in Poland (where GDPR is better known as RODO), many businesses are unaware of their obligations towards the subjects of the data that they keep. Chris Corney from law firm Carter Lemon Camerons explained what business owners should be doing now to avoid breaking the laws governing electronic direct marketing. The key changes between the current data protection regime in the UK and GDPR focus around the explicit consent of consumers (data subjects) to have their data stored and processed.
The morning session ended with a networking lunch break, during which participants had the chance to talk one-to-one with the expert speakers.
The afternoon session kicked off with a particularly chilling demonstration of how ransomware – a particularly dangerous form of malware that encrypts the content of your hard drive. Jakub Kosiec from FX7 Solutions infected an old laptop with the WannaCry virus, showing how it spread through all the files rendering them useless. Mr Kosiec explained what businesses should do to protect themselves against malicious software attacks by hackers, and what to do in the event of such an attack. A culture of data security based on regular backing up and staff awareness is crucial, he said.
Polish Business Exhibition in London
Exhibitions and trade shows are valuable and effective forms of business development, but few firms taking part in them really optimise their potential. Lee Ali and John Blaskey from ExpoStars Interactive explained how to make the most of being at a trade show – either as an exhibitor or as a visitor. One counter-intuitive piece of advice: don't send salesmen! Keep them on the road. Mr Ali said that by engaging, entertaining and educating, you should give clients a reason to keep the conversation going. Mr Blaskey advised: "Ask questions. Don't make statements."
The final presentation – given on an old-fashioned flip-chart rather than on PowerPoint – was another double act; from award-winning serial entrepreneur James Circus, and his coach, Sanjiv Dodhia from Action Coach. Starting from a practical case study of how Mr Circus quit his job, mortgaged his family home and set up his own logistics business, which he sold to Chinese investors, the two speakers looked at the factors that determine whether or not a business can move to the next level. Mr Dodhia presented some simple modelling tools that can help the business owner focus on the most important factors that drive growth.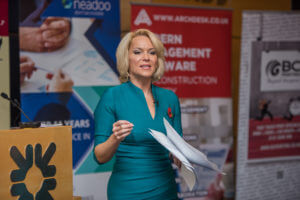 After an afternoon coffee break during which participants had the chance for face-to-face meetings with the session's presenters, the panel session began. Moderated by BBC World News presenter Kasia Madera, the panel consisted of speakers Lee Ali, James Circus, Chris Corney, Sanjiv Dodhia, Jakub Kosiec, Dagmara Lacka and Stuart Lotherington were joined by Paweł Mes, owner/founder of OneMoneyMail t/a SamiSwoi, and Andrew Poradzisz, owner/founder of Archdesk. The panel covered many fascinating points of a cross-cultural nature, looking at doing business between the UK and Poland, the importance of trust in business, and what it's like being a business owner striving to keep some semblance of balance between work and private life.
Natalia Glabik Stankiewicz from SamiSwoi summed up the congress and made the closing remarks on behalf of congress partner OneMoneyMail.
The networking that wrapped up the day was split into separate groups, with the construction sector and the retail and service sectors having their own sessions. Such was the desire to continue chatting and swapping business cards that three hours was not enough – most of the day's participants moved to the pub across the road to carry on the conversations.
After four years, the Polish Entrepreneurs Congress has proved to be a success in terms of forging a strong bond between Polish business owners in the UK, who can learn from one another as their companies grow from strength to strength.
A big thank you to congress partners Carter Lemon Camerons, SamiSwoi and hosts NatWest, and to congress supporters BC Printing, Best Foods, Archdesk, Buildeo and Neadoo.