Best Conversations happen in the Kitchen, event summary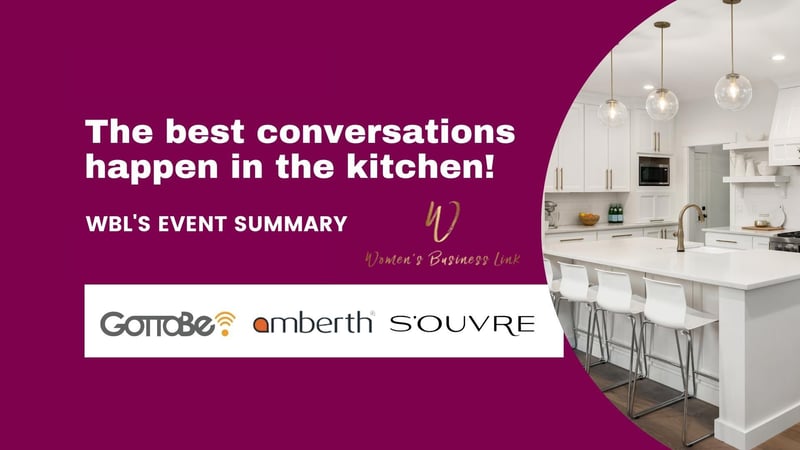 Have you noticed that the best parties, conversations, gatherings always happen in the kitchens?
This is why we chose a kitchen for our last month's networking. And what a kitchen that was! Nothing less than a beautiful showroom kitchen of Amberth Interiors Its managing director, Inga Kopala showed us her incredible hospitality and dazzled us with amazing designs aimed at creating elegant and functional space.
Inga inspired us and we moved to talk about money. Financial adviser, Anna Magryta-Urban, described what needs to be done to apply for a mortgage, inspiring many to think about buying a property.
Then, Sharon Taylor, Senior Financial Planner & Client Experience Lead at Magus Wealth, explained how our relationship with money impacts our everyday choices and our finances. She described the psychological process that has to be applied and practical steps that have to be taken towards individuals' wealth.
This was followed by a presentation from Anna Szyrynska, Souvre's Ambassador. Anna described how the company supports women's development and career progression. She also introduced some of Souvre's supplements and collagen cosmetics and spoilt us with luxurious hand treatments. Our hands are still grateful for that.
As always, the atmosphere was friendly and warm. We enjoyed a selection of cheeses, hams and other snacks and the friendly conversations that you have with a glass of wine. New business relationships and friendships have been made.
However, although we appreciated that special time together, the early news of the Russian invasion of Ukraine and the fear for what is happening there, was with us. Unfortunately, at the time of writing the situation has become even worse and we have decided to change the plans for a big conference celebrating International Women's Day in favour of a smaller gathering which will be dedicated to supporting humanitarian help to people from Ukraine. We hope to see you on 24 March 2022.
Women's Business Link
Take care of yourselves.
Monika, Sylwia, Joanna and Kate